Image Editor Tips - Miscellaneous
If the graphics on this page look horrible, you're probably running an old browser with a display set to show 256 colours. For best results, you really need display which is capable of displaying millions of colours.
Fun With the Brush Tool
You can do some interesting things with the Brush tool and its relative, the Clone tool. This space background was created very quickly by setting the Brush tool scatter and spacing to maximum and just dragging the mouse around the image in three strokes, each with a different brush size. The flare in the centre was created with the Flare filter.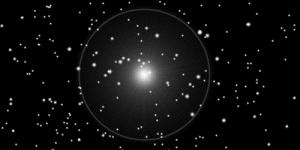 Making Spheres
The Gradient tool can be used to produce lit spheres very easily. Below are three spheres, each made by creating a circular selection and then using the Gradient tool to draw a radial white-blue gradient across the circle. The only difference is in the gradient used. The left sphere is a simple linear gradient, the right one is a circle-up gradient while the middle one uses a custom gradient created in the Gradient editor.