Image Editor Tips - Carving Wood
A useful filter for 3-dimensional effects is the Drop Shadow filter. Here we try to produce the effect of deep wood carving.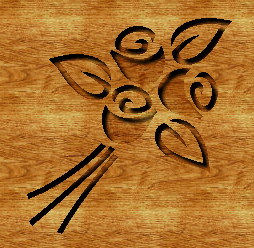 Carving Wood
Carving Wood
I started with a scanned wood texture. This was not large enough for the final image, so I tiled it using the "Image Size" command to make a larger background.
I then used the text tool to create the flowers outline - it's a character from the WebDings font at about 300 points. As I was only interested in the shape of the selection and not in filling the text in a color I drew the text in a transparent color. This just leaves a floating, transparent selection in the shape of the text.
To darken the background in the carving, I used the Gamma filter. This leaves dark text over the light background.
I used the "Invert Selection" command to select everything but the text.
I used the Drop Shadow filter to create the shadows.
There's a couple of things which could be improved here: firstly, a bigger background would have been better than tiling a small image. Also, note that the shadow effect isn't convincing where there are thin gaps between stems in the flowers making it obvious that the top layer of wood is actually floating above the background. This could be fixed by using a smaller shadow offset.